A joint initiative of OJK, WWF Indonesia and Indonesia's top eight banks – supported by EMSD
31 May, Jakarta
To show the commitment of eight of Indonesia's leading banks, and to implement broad sustainable finance practices, on May 31st 2018 the Indonesia Sustainable Finance Initiative (IKBI) was launched.
The process leading up to the initiative, was long. In late 2015 Indonesia's financial regulator OJK initiated a a pilot project of "First Movers on Sustainable Banking". The initiative was voluntarily supported by eight banks representing 46% of national banking assets through their commitment to become pioneer in the field of sustainable banking. The eight banks are Bank Mandiri, BNI, BRI, Artha Graha International Bank, BCA, BJB, Bank Muamalat and BRI Syariah.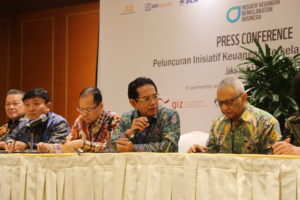 Starting in February 2016, with the support of WWF-Indonesia, the eight banks have participated in a series of capacity building and technical assistance programs related to Environmental, Social and Governance ("ESG") integration as well as the refinement of sustainable palm oil financing policies. GIZ's Emerging Market Sustainability Dialogues (EMSD) supported the program. For more information, see here.
All eight banks deemed that to continue refining a full ESG integration process as well as to encourage others to co-implement sustainable finance practices IKBI is necessary. The initiative also intends to:
Foster the development of Human Resource programs to empower the implementation, especially for ESG risk management functions.
Support the development and innovation of sustainability-related financial products and services
be a dialogue partner with the government, authorities in the field of financial service supervisory, similar global initiatives, and other stakeholders in relation to sustainable finance
Highlight the crucial role financial institutions play for achieving the Sustainable Development Goals as well as climate change adaptation & mitigation efforts.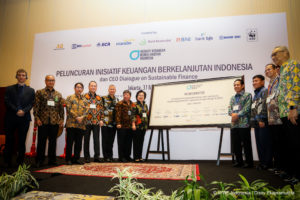 The launch event was blessed with a high-level presence of CEOs, Managing Directors and Directors of the participating banks, as well as senior representatives from OJK and WWF as well as GIZ Indonesia and EMSD. Many sustainable finance practitioners joined the discussion throughout the day, where business cases, examples of successful ESG integration, sustainable finance products and corporate initiative initiatives – e.g. via green bonds – were presented and discussed. IKBI will continue to be supported by WWF Indonesia
For questions or remarks please contact nina.roth@giz.de
Resources 
Press 
Related News (in Bahasa)
Related documentation